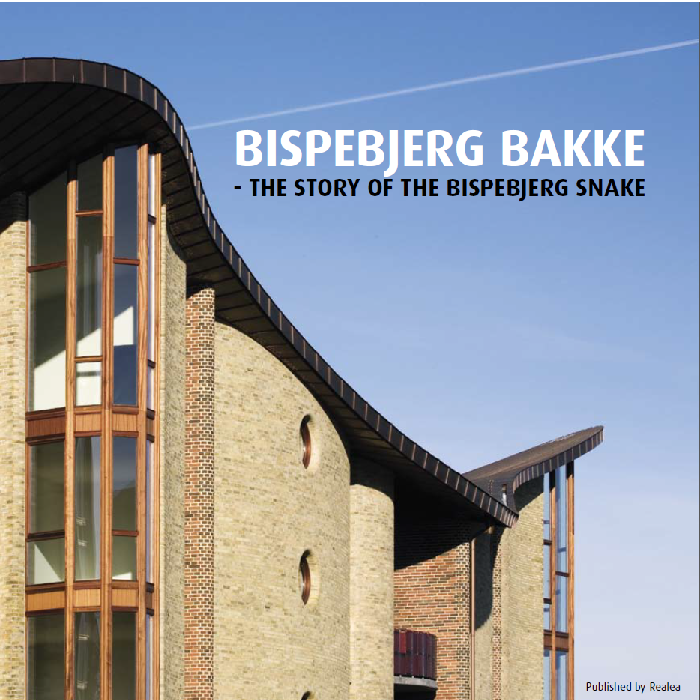 Bispebjerg Bakke in Copenhagen
Bispebjerg Bakke is an apartment complex in the Bispebjerg district of Copenhagen, Denmark. It was designed by leading Danish sculptor Bjørn Nørgaard. The idea of building Bispebjerg Bakke was conceived in 1997. The idea was to demonstrate that good buildings, in terms of design, craftsmanship and materials, can compete with todays industrialized construction industry
Af: Signe Kierkegaard Cain (2007)
"An imaginative, beautiful and groundbreaking residential building with obvious references to southern European Art Noveau, but interpreted in a contemporaryfashion that deeply roots the building in the community".
With these words, Bispebjerg Bakke received an honorary award from the Society for the Embellishment of the Capital (Foreningen til Hovedstadens Forskønnelse) in December 2006. With the award and the moving in of the first residents, a dignified and appreciative end was put to the creation of a unique residential building; a building that was initiated back in 1997, when Bjørn Nørgaard, the sculptor, and the Chairman of The Copenhagen Association of Crafts, Klaus Bonde Larsen had their first informal talk about dreams, visions and wishes for a different kind of residential building. Today – nine years later – the building is complete.
Like a snake with its head held high, Bispebjerg Bakke winds its way through the Northwest neighbourhood of Copenhagen – on anatural site that combines rural peacefulness and the vibrant pulse of the city. Slim columns in red and yellow bricks, balconies in shining ceramic glaze and a beautiful copper roof that wriggles and winds through the landscape. This is the sight – created by handpicked materials and superb craftsmanship – that meets residents and visitors at Bispebjerg Bakke. And it is in these materials and the skilful use of them that a large part of the Bispebjerg Bakke vision is to be found.